Welcome to our donation page for The Gurukulam education! We appreciate your interest in supporting our mission to provide free education to students from all walks of life. Our approach is based on the traditional principles of Gurukulam, which emphasize that education, food, and medicine should not be sold.
We are able to maintain this model thanks to the generous contributions of philanthropists and religious institutions who believe in our cause. Without their support, we would not be able to continue providing quality education to our students free of charge.
If you would like to contribute to The Gurukulam education, we offer various options for you to make a donation in cash or kind. Your donations are exempted by the 80-G Indian Income Tax Concession, so you can be assured that your contribution will go directly towards supporting our students.
Every donation, no matter how big or small, makes a difference in the lives of our students. Your support can help us continue to provide a world-class education to those who might not otherwise have access to it.
If you have any comments or suggestions, please do not hesitate to write to us. We are always looking for ways to improve and better serve our students and community. Thank you for considering a donation to The Gurukulam education.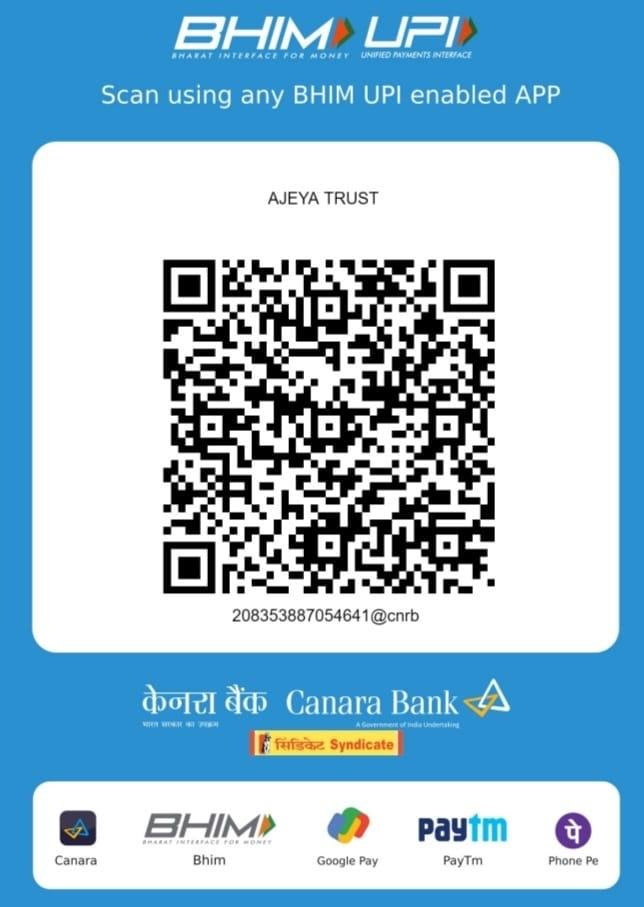 Bank Details
Canara Bank
Vittal, Bantwal Taluk, D. K
IFSC Code: CNRB0010141
A/c No: 01412200054641
Beneficiary Name: AJEYA TRUST
Donors will get 80G tax benefits as well
Please note: Donors who contribute via NEFT, UPI, IMPS please menti your name in the transaction and send your complete postal address and PAN number (to WhatsApp no: 9480574350) (office)