Apart from the routine schedule, some of the important events are as follows:
Festivals

We celebrate all religious festivals and social occasions such as Raksha Bhandan, Sankranthi, Independence Day, Ganesha Festival, Navaratri and so on. During these festivals, children join hands with the society; learn the importance of these occasions ; and celebrate them joyfully. Students themselves perform the appropriate poojas and cultural programmes.
To have a cordial relationship between the Gurukulam and society, we organize many cultural and religious programmes like Harikatha, Yakshagana, music, Bhajans etc,. Children visit nearby villages and study the society especially their social and economic conditions.
Educational Trip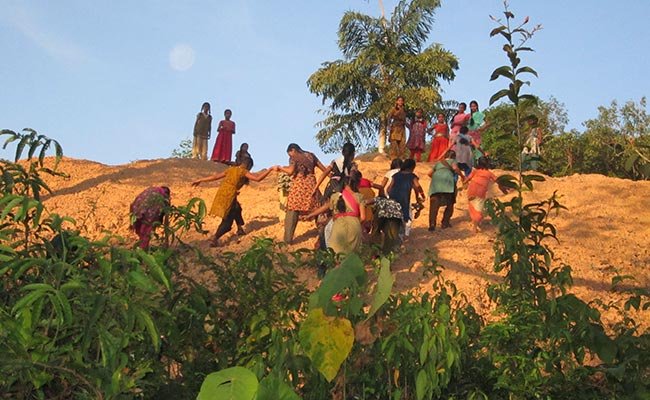 Every year educational trips are organized. These trips form a very important part of students education. Through this trip, the students observe and learn about modern developments in the field of science and technology, handicrafts, small scale industry etc. These trips also act as a catalyst to know more about our tradition and culture by visiting temples, piligrimage centres and meeting people who are pioneers in various fields.
Parents Meeting

Parents meetings are conducted yearly twice. One of the important concepts of Gurukulam is that every house should become a small Gurukulam. With this objective, parents are given training. They are taught the importance of our tradition and culture which, in turn, help the students to imbibe them in their daily lives. The combined efforts of students and their parents will be able to create a healthy environment both in their houses and society. The concepts and beliefs of Gurukulam are told in every meeting and reinforced by elder members.
Prathibha vikasana
Through this programme, whatever students have learnt in a whole year, they share their experience with the society. This unique programme is not for the sake of exhibition. But it's a dedication to the society. Every child participates in this programme.
Saraswathi pooja
Every thrayodashi there is Saraswathi Pooja. On this day, each student presents whatever she has learnt to others. It may be in the form of art, academic subjects or any new books which she has read and wants to share with others. It's a humble way of dedicating and sharing one's knowledge.
Monthly review meetings
Our educational committee members and elders come here every month to guide us. Reviews of both Acharyas and students are held. Teaching methodology and how to handle children's problem are discussed. Regular guidance is provided. There are frequent reviews by our elders so that we can improve and work better.
Anadhyapana days (summer holidays)
During this period, children visit their native places for one month. They exchange whatever they have learnt in the Gurukulam. These holidays are also spent on further enhancing their knowledge. They conduct Sanskrit camps, Veda camps, Bala Gokula, Yoga Camps etc. Children seek knowledge through Pancha Bhiksha like Prachya(antique-things), Grantha (books), Anubhava (experience), Prakruti (nature) and Jnana (knowledge). Overall, these components play a vital role in a student's life as they strengthen the bond between the student, her family and society
Orientation programmes for acharyas/mathrushrees
Orientation programme is conducted every year for seven days for Acharyas of Maithreyee Gurukulam, Prabhodini Gurukulam and Veda Vijnana Gurukulam. (other Gurukulams run exclusively for boys). Concepts and beliefs of Gurukulam are reinforced in the teachers.
Discussions regarding teaching skills, methodology and problems faced by students are held. Yoga, Psychology, Science and cultural heritage of India form an important part of the discussions. Main focus of this programme is to motivate the Acharyas to enhance their personality and motivate the students, to reach greater heights.
Poorva chatra (old students) sneha milana
After completing their education in Gurukula many children have gone out and have continued their education in many fields and some girls are married. Once in a year we invite them to gurukulam on Sneha Milana day. It is the opportunity to share their experiences which each other and get further guidance by the elders of Gurukula.
Social activities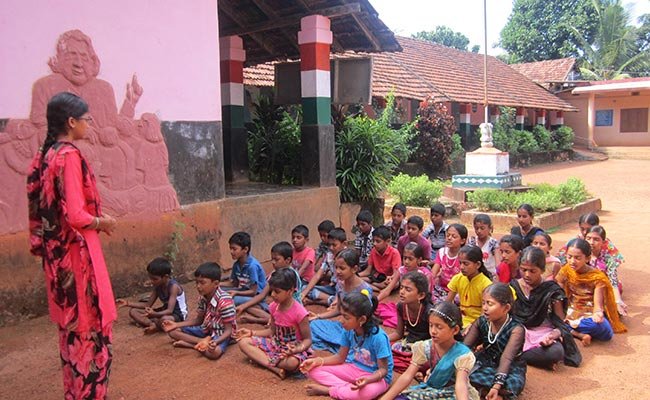 To have a cordial relationship between Gurukula and society, we are organizing some activities like Bala Gokula and other camps. We are conducting three Bala Gokulas in nearby villages and one Yoga class in nearby government school. By this children are getting the opportunity to share their knowledge which they gained in Gurukula. Gurukula's main objective is this- Learning by teaching.